If you live in Canada there is probably a very good chance that you own a LOT of Canadian based companies in your portfolio. This may be through a Mutual Fund, an Exchange Traded Fund (ETF) or individual stocks.

Do you know that 59% of the S&P/TSX Composite Index is comprised of Financials and Energy? Add the Materials sector to the mix and we are looking at a 70% combined  weighting of three sectors. Basically, when you invest in Canadian equities you own Canadian banks and Oil/Gas companies. So much for diversification.
There is a strong bias by Canadian investors to hold a portfolio that is primarily comprised of Canadian stocks. I've seen a lot of portfolios lately that are loaded with Canadian Energy and Banks. What about technology and Biotech? How about owning some foreign markets like China and India? Simpler yet, what about the US equity markets? How have they done in comparison to their northern neighbor? With ETFs you can access all of these markets very easily and with minimal fees.

By owning too much Canada and not enough America what have Canadian investors missed by not looking south?
Below are the returns over the last 5 years of the  S&P Composite Index (XIC.TO), the S&P 500 (SPY), and the NASDAQ Composite  (QQQ). Warning. If you didn't own any US equities over the last 5 years you might not like what you see.
Click on the chart below to enlarge.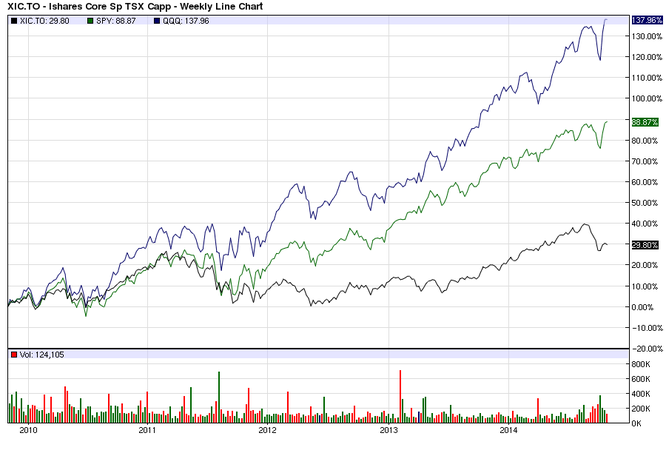 By not adding some US equity market exposure to your portfolio some serious gains were missed. The S&P and Nasdaq had returns of 89% and 137% in comparison to 30% for the TSX. Ouch.