Why the "Vegas" in parentheses you may ask? The TSX Venture Exchange can be compared to a Casino because of its small and micro-cap listed companies that are viewed by many as a gamble. Not only are these companies tiny in comparison to the listings on the TSX (Toronto Stock Exchange) but many produce little to no cash flow and can be compared to a "burning match".
Choose the right company that discovers the next big oil well or gold deposit and you could see some gigantic gains. Unfortunately the odds are stacked against you when you invest/speculate in TSX Venture stocks just like they are when you gamble at a casino. At least in Las Vegas you get free drinks while you play!

Lets take a look at the performance of the TSX Venture and the TSX to see how "small" vs. "big" has worked out for investors involved in these markets over the last 5 years.

Click on the chart below to enlarge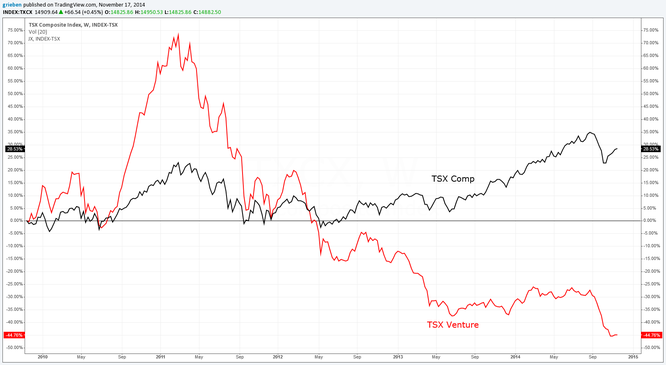 Over a 5 year span the TSX is up over 28% while the TSX Venture has been pulverized and is down over 44% for the same period. This has occurred because of the sharp decline of commodity prices over the last few years.

The TSX Venture is heavily weighted to materials and energy which make up over 72% of the index. Energy prices have been weak over the last 6 months along with Gold, Silver and Copper dragging down the index and stunting the influx of investment dollars.
Sticking with the big names such as the banks and the major oil and gas producers in Canada has proven to be the way to go. For those with an appetite for risk the TSX Venture will offer some great opportunities when commodities turn the corner and resume their up trends. For now Venture listed stocks still carry a lot of risk and should be viewed as a gamble but without the free drinks.