A terrible week in the oil and gas sector saw some of Canada's largest oil and gas stocks down over 10%. In the mid to small cap space it was even uglier with some stocks receiving a 20% haircut.
So was that the bottom you may ask? I have no idea and either does anyone else for that matter. I do know that many financial experts were pounding the table calling a bottom when October's sell off occurred. WRONG. You will only know when stocks have bottomed in hindsight and well after the fact.
As in previous blog posts XEG.TO (Ishares Sp TSX Capped Energy Index) is a good representation of the energy sector. Keep in mind it's heavily weighted in the largest stocks by market cap (SU.TO, CNQ.TO, CVE.TO, ECA.TO and CPG.TO). Lets take a look at a monthly chart of XEG to see where the sector was and where it may be headed.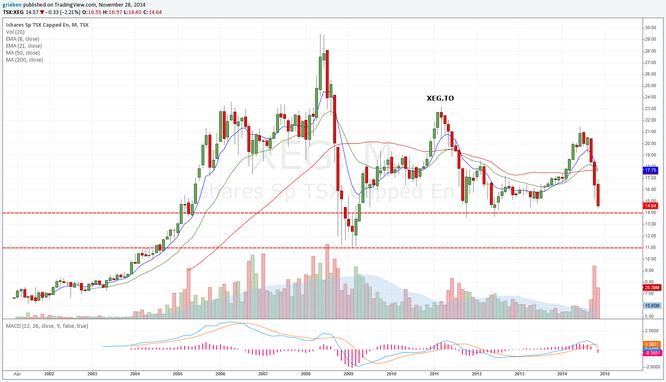 The October lows around $15.50 held on the first re-test but failed to hold this area last week which is a serious blow to the bulls. Another leg down is in full effect and the bottom pickers from October are experiencing some serious pain. Relief can be expected around $14 which proved to be good price support in 2011 and 2012 where bargain hunters stepped in. If it wasn't for the falling price of crude I would say that this area offers a good low risk buying opportunity. However, the price of crude is in free fall and could potentially drag the stocks down even further as the graph below suggests.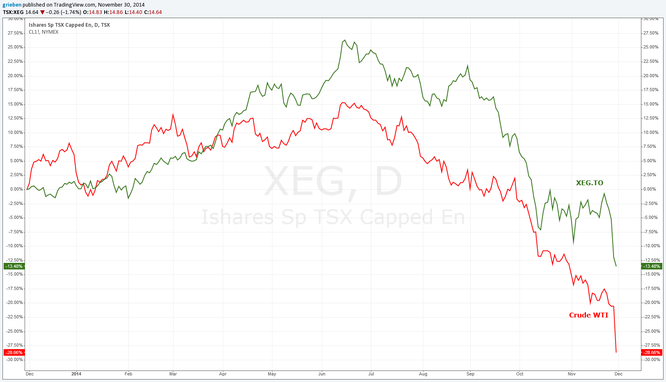 Crude Oil (WTI) has been leading the stocks lower since the beginning of the decline from mid June of this year. Right now crude is down 28% year to date while XEG is only down 13%. Will energy stocks fall further and catch up with the decline in Crude Oil prices or stabilize and offer some relief? No one knows the answer to this but it's an interesting observation that needs to be taken into consideration when deciding to get back into this sector. It tells me there is no need to rush back into stocks especially after coming off a light trading week with the US Thanksgiving holiday. Trying to catch a falling knife is not recommended.
Where there is "pain" and "panic" there is opportunity. I don't think we are quite there yet but there will be a time where the energy sector offers some incredible opportunities. What should you buy? Individual equities? or an Exchange Traded Fund (ETF) such as XEG.TO? How good of a stock picker are you? That is the question you need to ask.
Take a look at some large cap energy stock performance (Crescent Point, Husky, Talisman) vs. XEG. Choose the wrong stock and it could cost you...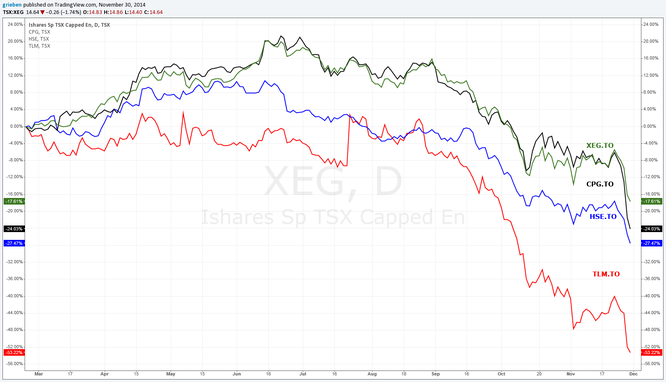 The goal of investing is to have a nice smooth rising equity curve. By using an ETF such as XEG.TO for exposure to the energy sector you accomplish this goal. It not only performed well on the way up but has also held up a lot better than the majority of energy stocks in the latest sell off. Very few professionals can choose the right stock that outperforms the sector so why not just own the sector itself with XEG.TO?