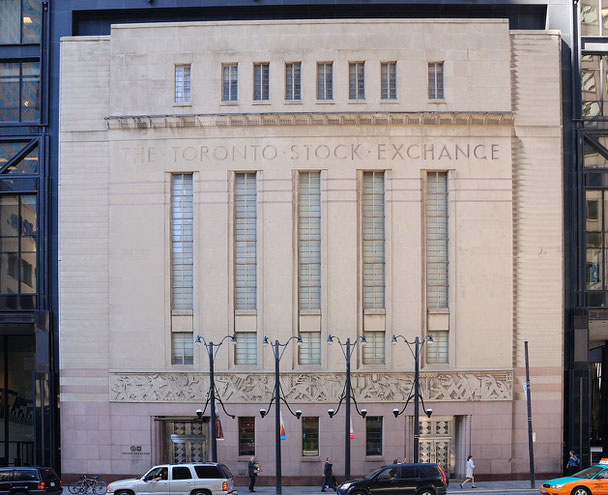 The TSX Composite has quietly made it back to levels not seen since 2014 when oil was above $90. I say quietly because the market has been dragged higher by the strong performance of the financial sector, which makes up 36% of the index.
A handful of big cap energy names have also added fuel to this rally as oil and gas represents over 21% of the TSX.

The potential risks to the Canadian stock market should be no surprise...

1. The Price of Oil

It's no secret that there's a major supply glut and prices continue to fluctuate on every word out of OPEC.
Will OPEC extend production cuts into 2018? If they don't prices will most definitely fall. If they do extend cuts, prices could still remain weak if demand doesn't strengthen to meet the increasing supply from non-OPEC producers.
Oil has been range bound for over a year topping out in the low $50's and bottoming in the low $40s. What happens if the bottom of this range is taken out and oil trades in the $30's?
Oil prices in the $30's or low $40's could re-ignite fear of oil and gas loan defaults as well as more oil industry related layoffs. Both of these would be negative for the Canadian economy and pose a threat to lenders. Most Canadian banks have some exposure to the Canadian oil and gas companies through loans or other related industries.

Canadian banks may be facing another potential problem...
2. Toronto and Vancouver Housing Markets
You would have to be living under a rock to be unaware of what's going on in housing markets in Vancouver and Toronto.
Toronto is living up to the reputation among western Canadians of being the center of the universe, as the cost to purchase a home has reached some of the highest prices on the planet.
What if housing markets suffer a severe correction or worse yet prices crash? This would be bad news for Canadian financial institutions.

You've probably seen what happened to Canada's largest sub-prime lender Home Capital Group's stock over the last couple weeks (-80% year to date). This event alone may be the cause of some recent selling in the bank stocks where many were trading near all time highs.

Investors may have good reason to sell these stocks further on fear of bad mortgages held by banks in these inflated real estate markets.

 3. Potential Bearish Chart Formation - Head and Shoulders Top
The TSX has struggled to make new highs, failing on 2 separate occasions and has now potentially formed a pattern known as a head and shoulders top.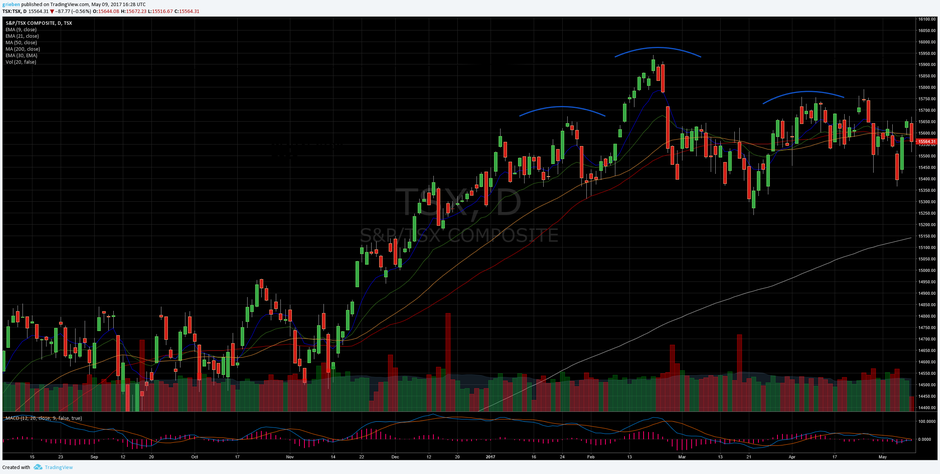 Some further selling below 15,200 would be needed in order to verify this technical event. For now it's just an observation worth paying attention to.

With financials and energy making up nearly 60% of the TSX, further weakness in these two sectors could easily send the index down 10% or more.
Having rallied over 35% from 2016 lows a normal correction could retrace 50% of these gains. This would take us back to 14,000 which would be a 10% correction.
---
BECOME A BETTER INVESTOR AND SUBSCRIBE NOW!
Stay on top of the current market trends and become a more informed and educated investor (It's Free)